D3-C Series
The D3-C series is the third edition of Jinghong's DOCSIS3.0 CMTS product platform. There are various product forms such as indoor type, D-node (outdoor type), and modular type to meet various deployment scenarios.
Compared with earlier versions, the D3-C series uses the latest MAC/PHY chips and a more powerful multi-core network processor from Broadcom. On the basic of maintaining the original features, its bandwidth has doubled. It can support 1000 CMs simultaneously online.
Bundled with 32 QAM channels for downstream (sharing one RF port), the data rate could be up to 2Gbps. The downstream can be configured flexibly as data channels or IPQAM channels. It also supports multicast capabilities.
Bundled with 10 QPSK/QAM channels for upstream (sharing one RF port), the data rate up to 400Mbps. It also provides the upstream spectrum analysis function.
D3-C can run in L3 or L2 mode. It has perfect QoS mechanism, built-in DHCP/TFTP/ToD servers, supports DHCP relay, and supports IPv6. It can adapt to varieties of operation environment to meet various business requirements.
more
About us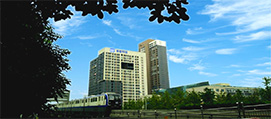 Jinghong V & T technology Co., Ltd, also known as Jinghong High-tech Co., Ltd. is a R&D company providing complete solutions for HFC network since  1999. It is located in Chongqing, China.
more